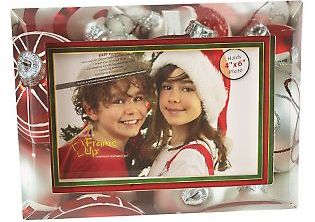 Before you send out ordinary holiday greeting or photo cards, check out these unique and extraordinary holiday greetings. This clever product is actually two products in one. It's a charming photo frame and a greeting card. First, it is a festive "pop up" mailable photo frame. It mails flat and pops up when opened. You include your favorite 4 x 6 holiday photo of course! The frame is magnetized for the fridge and has a pop out stand for tabletop display in your home of office. Secondly, it includes a matching greeting card and color coordinated mailer. You'll love the adorable holiday designs. What a wonderful way to send your family photo for the holidays. This amazing new product will be cherished for years to come.
A thoughtful gift for grandparents, godparents, aunts & uncles and friends. Best of all, they are reasonably priced. A pack of 6 complete sets is $24.75 That's under $5 EACH! They are a terrific value especially when you consider the cost of a store bought greeting card or photo frame.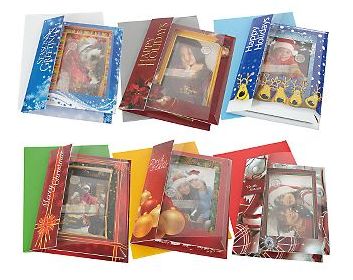 I've purchased them myself and have been thoroughly delighted with the quality and design of this product. I highly recommend them. They were recently featured nationally on QVC Channel on Thanksgiving Day.
While you are shopping, take time to check out their "All Occasion" pack for year round enjoyment. This set includes an assortment of new baby, kids birthdays & graduation themes. It's a great way for new parents to show off their precious little ones.
To purchase, visit This Is a Frame Up or go directly to QVC.com, or call QVC at 1-888-345-5788, and ask for item H19613.
For additional holiday gift ideas, please see:
The Little Ones Holiday Gift Giving Guide and
Little Ones "Twelve Weeks Before Christmas" Holiday Toy Series: This holiday series is designed to help parents and grandparents make smart choices by featuring outstanding/award winning "toys that teach," accompanied by reviews which highlight and explain the educational benefits and specific skills children receive from these types of toys.

Visit www.littleones.com for our selection of Great/Award Winning Children's Books, Little Ones Recommended Toys & Gifts, Birthday Theme Parties and Baby Basics, along with teacher tips, parenting articles, family fun and much more!

If you haven't done so already, Subscribe Now to receive our weekly Little Ones articles via E-mail.