Update: See our September 2013 Kindle Fire HDX review!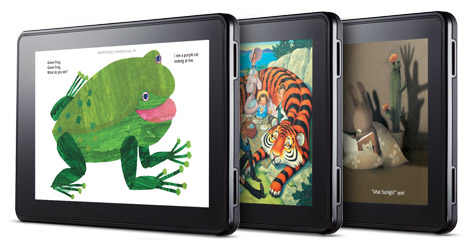 Move over iPad…here comes Amazon's brand new Kindle Fire. All I can say is "Wow, this is one hot product!" While the Kindle Fire has many desirable features, the one that stands out the most to me is its kid-friendly appeal. Not only is the Kindle Fire designed to be super easy to use with its extra durable touchscreen, but it houses over 1,000 favorite children's books with vivid, full color illustrations. This display boasts an awesome 16 million colors. There are classics like Brown Bear, Curious George, numerous children's bestsellers, comic books, color magazines and more. In fact, the Kindle Fire has over one million bestsellers available for readers of all ages and abilities.
Not only is the Kindle Fire a great reading machine, it has the potential to become the one stop source for children's entertainment. The Kindle FIre is designed to support your child's favorite apps and games. In fact, it's likely to be a great game machine. But wait, there's more…don't forget the choice of over 100,000 movies and TV shows including a wide selection of children's shows that you can download and enjoy. If your child still wants more, he can listen to selections from his very own music library or spend some time surfing the web using Silk, Amazon's super fast and easy to use web browser.
Another great kid friendly feature is that the Kindle Fire is extremely portable and is perfect for kids on the go. It weighs in under 1 pound and measures 7.5" x 4.7"x 0.45" which makes it small enough and light enough to fit in children's backpacks, mom's purse or just about anywhere. In addition, the larger screen is more suitable for young, developing readers and allows for the Kindle "pop up text" feature so that kids can enlarge text when necessary.
Parents will love that the Kindle Fire is a sophisticated device that will continue to grow with your child. It is so versatile that it can span the ages from tots to teens, making it a worthwhile investment for the family.
Best of all, the Kindle Fire costs significantly less than its competitors, selling for only $199. Plus, if you subscribe to Amazon Prime, you receive 2 day free Amazon shipping all the time, and your first month of Amazon Prime free! Amazon truly has a real hit on its hands with what it calls a "premium product for a non-premium price." Still not convinced? Get all the details and see a demo for yourself at the Amazon Kindle Store.
On a final note, the Kindle Fire is guaranteed to be a hot holiday pick. It won't be released until November 15, 2011, but you can pre-order yours at the Amazon Kindle Store to reserve your place in line. If you're seriously thinking about purchasing one for your child or for yourself, reserve one today before they are all gone. They certainly got the name right, because this Kindle is truly on fire! Just one more thing to say…"I want one too!"
Also see:
Kindle FIre: Recommended Full Color eBooks for Children (Ages 1-3)
Kindle FIre: Recommended eBooks for Children (Ages 4-8)

Kindle Fire: Recommended eBooks for Older Children/Teens (Ages 9-12)

Also available:
Kindle Fire MicroShell Folio Cover by Marware, Graphite
Kindle Fire MicroShell Folio Cover by Marware, Pink
2-Year SquareTrade Warranty plus Accident Protection for Kindle Fire, US customers only
For more recommended children's products and hot holiday picks see:

Visit www.littleones.com for our selection of Great/Award Winning Children's Books, Little Ones Recommended Toys & Gifts, Birthday Theme Parties and Baby Basics, along with teacher tips, parenting articles, family fun and much more!
If you haven't done so already, Subscribe Now to receive our weekly Little Ones articles via E-mail.