While the Kindle Fire has many desirable kid friendly features such as games, apps, movies, music a web browser and more, from an educational point of view, the true value of the Kindle Fire is as an eReader for children of all ages and abilities. The Kindle library houses over 1,000 favorite children's books, many with vivid, full color illustrations. There are beginner reader books, picture books, bestselling children's chapter series, comic books, color magazines, classics and more. Since the Kindle Fire has a larger screen, it is more suitable for young, developing readers and allows for the Kindle "pop up text" feature so that kids can enlarge text of these books when necessary.
So the next logical question is, "What are some recommended children's eBooks for my Kindle?" Luckily, there is a vast Kindle library of affordable and well-known children's eBook series available. For the 4-8 age group, there are many excellent literature choices for developing readers with interesting plots and amusing characters. You'll find favorite authors, bestsellers, some free titles and popular children's series. We have listed below a small sampling of the recommended children's series for this age group. These eBooks are guaranteed to bring excitement and a brand new twist on reading to your emerging reader. So make the most of your Kindle Fire by investing in quality children's literature as well.
Recommended Children's eBooks for Ages 4-8

Beginning Readers: Beginning reader books are perfect for pre-readers and first time readers. They contain simple vocabulary, only a few words per page, large text, lots of color illustrations, and repetition of key words, These types of books can be read aloud, and will be enjoyed over and over again. We recommend favorite Dr. Seuss & P.D. Eastman classics such as:
Go, Dog. Go! (Beginner Books Series)

Are You My Mother? (Beginner Books Series)
Big Dog…Little Dog (Beginner Books Series)

Golden Book: Several of the beloved Golden Book classics that you grew up with are now available from the KIndle store. You'll find several of these lovable old characters along with popular characters such as Barbie, Thomas the Tank Engine and more.
The Poky Little Puppy (Little Golden Book)
Scuffy the Tugboat (Little Golden Book)
The Little Red Hen (Little Golden Book)
Barbie: Fashion Fairytale Little Golden Book (Barbie)
Misty Island Rescue (Thomas & Friends) (Little Golden Book)
Picture Books: Picture books as the name suggests contain detailed color illustrations along with exposing children to more challenging text. There are interesting & recognizable characters with a simple story line or a meaningful lesson. These are also books that encourage read aloud and rereading. Here are a few favorites:
Curious George Visits the Zoo (Curious George Series)

Curious George Goes to an Ice Cream Shop (Curious George Series)

The Berenstain Bears and Too Much TV (First Time Books Series)

The Berenstain Bears Visit the Dentist (First Time Books Series

Mystery Books: Catch the excitement of solving mysteries! Mystery books are popular choices especially for slightly older children. "Who-done-its" are a great way to intrigue even the most reluctant readers. Let the elements of suspense and anticipation captivate your child with these high interest and enjoyable reading series.
A to Z Mysteries: The Absent Author (A to Z Mystery Series)
Cam Jansen: The Mystery of the Stolen Diamonds #1 (Cam Jansen Series)

Encyclopedia Brown Solves Them All (Encyclopedia Brown Series)

Easy Reader/ Early Chapter Books: There are several Kindle chapter book series for emerging readers. These more sophisticated books contain age appropriate vocabulary, more developed & numerous characters and more complicated plots. (Note: While there are several great choices available, the Magic Tree House series stands apart as a must read, five-star children's series. Children enjoy exciting historical adventures while learning topics straight from history.)
Magic Tree House #1: Dinosaurs Before Dark (Magic Tree House Series)

Flat Stanley: His Original Adventure! (Flat Stanley Series)

Geronimo Stilton Series #1: Lost Treasure of the Emerald Eye
Ally the Dolphin Fairy (Rainbow Magic Series)
My Weird School #9: Miss Lazar Is Bizarre! (My Weird School Series)

Going, Going, Gone! with the Pain and the Great One (Pain & the Great One Series, Judy Blume)
Non-Fiction: An often overlooked choice is Kindle's selection of children's non-fiction books. These books contain simple content, and are the perfect vehicle for learning more about interesting, age appropriate children's topics. The Step into Reading Series, a leveled reading series, is highly recommended.
Dolphins! (Step into Reading Series)

Hungry Plants (Step into Reading Series)

Helen Keller: Courage in the Dark (Step into Reading Series)
This is only a small sampling of the numerous children's Kindle eBooks available. See for yourself at Children's eBooks for the Kindle for a complete selection of eBooks grouped according to age levels. Also, check out Amazon's top 100 list of bestselling children's eBooks at Children's eBooks for the Kindle.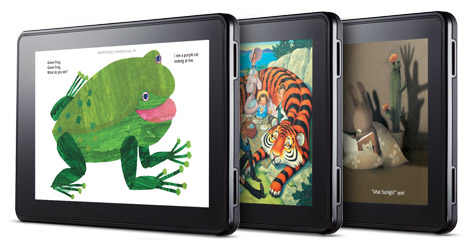 See Little Ones Review of Kindle Fire for more information about children's color ebooks for young readers.
Also see:

Kindle FIre: Recommended Full Color eBooks for Children (Ages 1-3)
Kindle Fire: Recommended eBooks for Older Children/Teens (Ages 9-12)
Also available:
Kindle Fire MicroShell Folio Cover by Marware, Graphite
Kindle Fire MicroShell Folio Cover by Marware, Pink
2-Year SquareTrade Warranty plus Accident Protection for Kindle Fire, US customers only
For a superb selection of children's books for kids of all ages (Kindle or not!) see Great/Award Winning Children's Books at www.littleones.com

Visit www.littleones.com for our selection of Great/Award Winning Children's Books. Little Ones Recommended Toys & Gifts, Birthday Theme Parties and Baby Basics, along with teacher tips, parenting articles, family fun and much more!
If you haven't done so already, Subscribe Now to receive our weekly Little Ones articles via E-mail.