Children love interactive toys! Electronic learning toys possess the unique ability to present information in a variety of ways. Thus, they are successful with many different types of learners. The multi-sensory approach includes visual, auditory and tactile learning strategies. For example, when using the Leapfrog Fridge Word Builder (below), children see an alphabet letter, hold the alphabet letter in their hand and hear the sound the alphabet letter makes (phonics) when they place it into the word builder. The word builder then combines the sounds and reads the word. The combination of these three approaches reinforces the learning process. It's not only educationally sound, but enjoyable as well! Children thrive on these types of interactive toys that combine both learning and fun!
Many of the more advanced learning systems like the Leapfrog Learning Game System or Leapfrog Tag Reading, have additional cartridges or books that expand and enrich the learning experience. Additional topics reinforce Math, Science, Reading or Critical Thinking skills and strategies. Choosing quality educational electronic toys like these can give your child a head start on learning. You'll find that these smart purchases are well worth your investment!
LeapFrog LeapPad Explorer Learning Tablet (Green)
The LeapPad Explorer is our top holiday pick for preschoolers age 4+. The LeapPad is a highly educational personalized learning tablet that has a library of 100+ games, apps, digital books, video and flash cards. This sturdy tablet also has a built in camera and video recorder so kids can edit and share video and animation. The great news is that the LeapPad also works with Leapster Explorer games. You can't beat this type of fun, interactive learning that reinforces skills and concepts in reading, math, science, geography, art, music, language and more. The LeapPad Ultra eBook feature builds reading comprehension and expands vocabulary at 3 different levels. Best of all, LeapPad automatically adjusts app levels to match your child's individual pace and progress. It's a wonderful investment that promotes learning and guarantees fun! Available in green or pink.
V.Reader Animated E-Book System Multiple Awards Winner! Bring reading to life with the all new V. Reader. It's a perfect choice for pre-readers and early readers ages 3 to 7 years old. Young children can practice important core reading skills while having fun with this incredible and durable touch screen learning machine. Children see the words and illustrations, hear the story recited, and interact with the story by touching the screen to learn and do more. See Little Ones V. Reader toy review.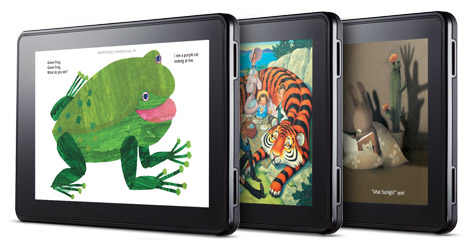 See Little Ones Review of Kindle Fire for more information about children's color ebooks for young readers.
LeapFrog Fridge Phonics Magnetic Alphabet Set Award winning learning toy! Introduce young children to letter names and sounds with this entertaining learning tool. This magnetic letter reader firmly attaches to your fridge and lets children insert letters, listen to letter names, letter sounds, phonics songs, the alphabet song and more! Develops pre-reading skills. Ages 3+.
Leap Frog Fridge Words Magnetic Word Builder Outstanding & award winning educational toy teaches pre-readers and readers to build & read over 325 3-letter words. Lights, sounds & music add to the fun! Ages 3-7. (**For more information view the complete Little Ones Toy Review of this product**)

LeapFrog Fridge Farm Magnetic Animal Set Award winner! Extremely amusing and educational toy for ages 1+. Magnetic animal set plays learning songs, teaches animal facts and sounds. Mix and match animal bodies to create actual or wacky animal combinations, and enjoy the silliness. Plays 5 barnyard tunes. A real hit with toddlers!
LeapFrog Fridge DJ Magnetic Learning Radio On the fridge or on the go, enjoy multisensory learning with uppercase & lowercase letters and numbers that light up along with learning songs about counting, days of the week and much more. Dance to the music while you learn! ages 3+
LeapFrog® Learn & Groove Musical Table Award winner! Music, learning & fun rolled into one! Choose from this amazing toy's words or music options. Learn about ABCs, colors, opposites, counting to 10 and primary shapes or play on piano keys, tap the drum, groove to over 40 songs and melodies, and listen to nursery rhymes & instrument sounds. Flip a switch to change from English to Spanish. Best of all, this toy grows with your child. It sits flat on the floor for babies and adjusts to toddler play by adding included table legs. Provides hours upon hours of visual, auditory and fine motor stimulation and skills practice. An educational wonderland sure to delight little ones from 6 months- 2+ years. Also see other LeapFrog Learn & Groove Instruments.
LeapFrog Scribble and Write Award winner! Little fingers can practice the formation of letters and shapes with this fun learning machine. The child-size stylus along with screen lights make it easy for kids to draw simple pictures, shapes and eventually upper & lower case letters. Amusing learning games reinforce letter formation. A great way to teach writing skills. Ages 3-5.
LeapFrog Chat and Count Phone Award winner! Babies are fascinated with phones! This baby-proof phone combines both learning and fun. Press the number buttons to count on the screen along with baby's animated pal Scout, or press the music button to hear songs about counting. Trade calls and voicemail with Scout, or enjoy 15 other fun phone activities. Includes online learning ideas for parents. Pretending to be a grownup has never been so much fun! Ages 18 months+
LeapFrog Text and Learn Award winner! Like a blackberry for kiddies! Practice letter names and sounds while having fun. Exchange text messages with your puppy pal Scout, play educational games, check your agenda, view the browser, dance to music and more. Features 3 learning modes, a qwerty keyboard and the ability for parents to connect online for customized learning ideas. Kids will LOVE this toy! Ages 3-5.
LeapFrog Learning Game System The original and best learning system on the market! Can't say enough about this portable gaming system that combines video games and learning! Kids will LOVE the huge library of interactive games (sold separately) which teach math, reading, phonics, spelling, critical thinking and more. Well-worth the investment. Also available: Leapster L-Max and Leapster2 which are compatible with TV or computer. Ages 4-10.
LeapFrog Leapster® Educational Game: Kindergarten Outstanding and award-winning interactive game teaches 45 important Kindergarten reading and math skills such as phonics, spelling, letters, numbers, counting and more. Ages 4-5.
Leapster Arcade: Number Raiders Action-packed arcade game that teaches math skills, solving simple equations, addition, subtraction, sequencing and more. Ages.
LeapFrog My Pal Violet Adorable plush puppy which can be customized to learn your child's name and favorite things via a simple computer download. Plays lullabies, learning songs and teaches numbers, animals, food and more. Select from an additional 30 songs online. Awesome cuddly and educational toy for ages 6 months-3 years. Also available LeapFrog My Pal Scout (Green).
LeapFrog® Tag Reading System Winner of 2009 Toy of the Year Award. Inspire a love of reading with the amazing touch technology of the Tag pen which make words talk, pictures sing and stories come to life. The Tag Library contains over 30 books and games based on popular characters. Develops reading skills, vocabulary, word recognition, and phonics while parents monitor progress online. Worthwhile investment for ages 4-8.
LeapFrog® Tag Activity Storybook Disney Princess: Adventures Under the Sea Follow Ariel and Flounder on their undersea adventure as they explore a sunken ship. Ages 4-8. Over 30 Tag Library titles available.
LeapFrog: Phonics Writing Desk This electronic lap-sized desk is a wonderful learning tool for practicing writing, phonics and spelling skills. Attached pen is used to practice formation of letters and desk features 6 interactive games Ages 3-7.
Count and Learn Math Desk Spark your child's interest in Math with this electronic Math desk. Learn number recognition and formation along with important Math concepts using 6 different levels of learning from beginning to advanced. Ages 3-7.
For older children:
Kindle Fire, Full Color 7" Multi-touch Display, Wi-Fi Of all the hot holiday picks this year, our #1 choice has to be the Kindle Fire. This versatile tablet serves as a color eReader with over 1,000 children's & young adult bestselling titles; a game machine which supports your child's favorite apps and games; an awesome entertainment tablet with downloads of over 100.000 movies, TV shows & their favorite music, as well as a sophisticated web browser. Who could ask for more in one gift? Get all the details and see a demo for yourself at the Amazon Kindle Store.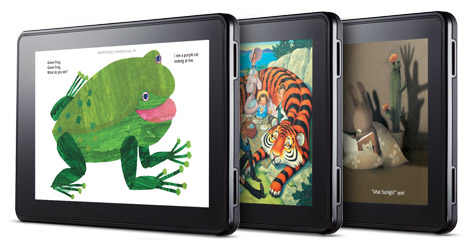 See Little Ones Review of Kindle Fire for more information about children's color ebooks for young readers.
For more information, please see:
Little Ones "Twelve Weeks Before Christmas" Holiday Toy Series: This holiday series is designed to help parents and grandparents make smart choices by featuring outstanding/award winning "toys that teach," accompanied by reviews which highlight and explain the educational benefits and specific skills children receive from these types of toys.

Visit www.littleones.com for our selection of Great/Award Winning Children's Books, Little Ones Recommended Toys & Gifts, and Children's Educational DVDs along with teacher tips, parenting articles, family fun and much more!