V.Reader Animated E-Book System by V-Tech

Also available:

V.Reader Animated E-Book System by V-Tech – Pink
Multiple Awards Winner! Bring reading to life with the all new V.Reader Animated E-Book System by V-Tech. It's a perfect choice for pre-readers and early readers ages 3 to 7 years old. Young children can practice important core reading skills while having fun with this incredible and durable touch screen learning machine.
The V. Reader is an interactive story teller which plays fully animated children's stories. Children can have stories read to them while following along the highlighted text. They can pause the story and touch the screen to have words pronounced, or they can touch characters and objects to make them come to life. Each story features a story dictionary which provides simple definitions. Another great feature of the V. Reader is the 8 entertaining reading games (included with each story) designed to reinforce comprehension and practice reading skills. Similar to game machines or other learning systems, individual cartridges must be purchased separately. There is a wide variety of classic children's stories and popular children's characters available. Expansion is possible with downloads of additional stories and features from the V Tech website (USB required)
What is most appealing about the V. Reader is its multi-sensory approach to reading. Stories are presented using a combination of visual, auditory and tactile learning strategies. Children see the words and illustrations, hear the story recited, and interact with the story by touching the screen to learn and do more. The combination of these three approaches reinforces the learning process. as well as increases this product's success with different types of learners. It's educationally sound and truly combines both learning and fun!
Get children hooked on reading with the help of the V. Reader E-Book System. It's a great alternative for young children as opposed to the more grown-up oriented Kindle or other E-Readers. It's durable, stimulating and very kid friendly! A gift that is sure to please parents and children!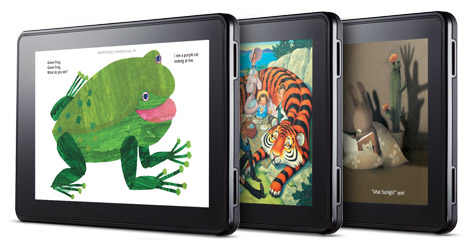 See Little Ones Review of Kindle Fire for more information about children's color ebooks for young readers.
For great gift ideas for children of all ages, please see:
Best/Award Winning Baby Toys (Birth -2 years)
Little Ones Recommended Toys & Gifts

The Little Ones Holiday Gift Giving Guide
Best Presents for Children's Birthday Parties
Little Ones "Twelve Weeks Before Christmas" Holiday Toy Series: This holiday series is designed to help parents and grandparents make smart choices by featuring outstanding/award winning "toys that teach," accompanied by reviews which highlight and explain the educational benefits and specific skills children receive from these types of toys.

Visit www.littleones.com for our selection of Great/Award Winning Children's Books, Little Ones Recommended Toys & Gifts, Birthday Theme Parties and Baby Basics, along with teacher tips, parenting articles, family fun and much more!