Amazon has just announced a new benefit for Kindle owners with Amazon Prime membership called the Kindle Owners' Lending Library. Kindle owners can now choose from thousands of books to borrow for free (yes, free!) including over 100 current and former New York Times Bestsellers — as frequently as a book a month, with no due dates. No other e-reader or ebook store offers such a unique service. Wow! That's definitely a big bonus for Kindle owners!
The Kindle Owners' Lending Library features a variety of popular titles, award-winning novels, motivational books, biographies, Pulitzer Prize winners and more. The new Kindle Owners' Lending Library is automatically added to Prime membership at no extra cost. Amazon Prime is just $79 a year, which gives you free two-day shipping on millions of products, plus unlimited instant streaming of close to 13,000 movies and TV shows.
The good news is that if you're a Kindle owner with Prime, you can start borrowing books today! Simply enjoy this new library feature compliments of Amazon.
If you don't yet have a Kindle yet, check out the soon to be released, Kindle Fire. Get all the details and see a demo for yourself at the Amazon Kindle Store. The Kindle Fire has had very impressive pre-order sales, so if you are considering ordering the Kindle Fire for the holidays, you may wish to order asap at the Amazon Kindle Store before they are all gone. The Kindle Fire costs significantly less than its competitors, selling for only $199. If you subscribe to Amazon Prime, you receive 2 day free Amazon shipping all the time, and your first month of Amazon Prime free PLUS access to the new Kindle Owners' Lending Library.
Also for Kids….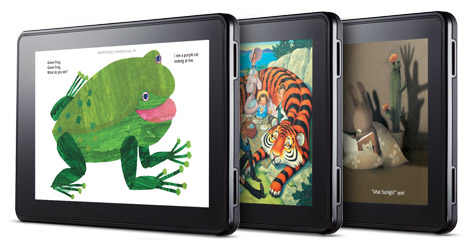 Thinking about The Kindle Fire for your kids? Read our complete product review, Kindle Fire For Kids at www.littleones.com.
For Children's Kindle Fire eBook recommendations see:
Kindle FIre: Recommended Full Color eBooks for Children (Ages 1-3)
Kindle FIre: Recommended eBooks for Children (Ages 4-8)

Kindle Fire: Recommended eBooks for Older Children/Teens (Ages 9-12)

2-Year SquareTrade Warranty plus Accident Protection for Kindle Fire, US customers only

Visit www.littleones.com for our selection of Great/Award Winning Children's Books, Little Ones Recommended Toys & Gifts, Birthday Theme Parties and Baby Basics, along with teacher tips, parenting articles, family fun and much more!
If you haven't done so already, Subscribe Now to receive our weekly Little Ones articles via E-mail.