Apple just released Apple iPad Guided Tours on their web site, which includes an interesting preview of their free iBooks app. The first iBook that Apple highlights is the classic children's book, WInnie the Pooh. This new eBook reader differs from other readers because it includes full color illustrations making it a perfect match for children's books. In addition to the appeal of crisp color pictures, the iBook has the capability to enlarge text which makes decoding easier for early readers. Another great feature is the ability to choose a portrait or landscape display allowing the reader to view either one page or two pages at a time. One page viewing is beneficial since it limits distractions for young readers and breaks content into small manageable sections. The built-in dictionary feature assists children with comprehension and adds to the product's kid appeal. The only drawback of the dictionary feature is that it uses an adult dictionary for children's books. Perhaps later versions will include a more kid-friendly dictionary, although the current dictionary is acceptable for older children. Overall, the iPad's iBooks app is an exciting new way for children to enjoy reading.
Apple will be releasing its entire bookshelf of iBooks shortly including many great children's titles. Apple plans to start shipping the Apple iPad on April 3, 2010. Stay tuned for the latest updates and our recommendations of children's iBooks.
For young children ages 3-7, please see our product review of The V. Reader: Animated E-Book System "The New E-Reader for Kiddies"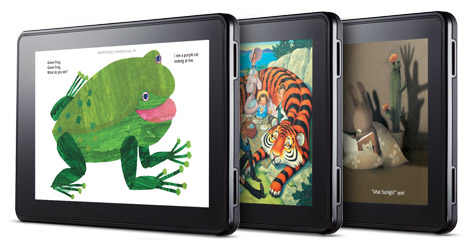 See Little Ones Review of Kindle Fire for more information about children's color ebooks for young readers.
Also see:

Kindle FIre: Recommended Full Color eBooks for Children (Ages 1-3)
Kindle FIre: Recommended eBooks for Children (Ages 4-8)
Kindle Fire: Recommended eBooks for Older Children/Teens (Ages 9-12)
Visit www.littleones.com for our selection of Great/Award Winning Children's Books. Also view Little Ones Recommended Toys & Gifts, Birthday Theme Parties and Baby Basics, along with teacher tips, parenting articles, family fun and much more!

If you haven't done so already, Subscribe Now to receive our weekly Little Ones articles via E-mail.