UPDATE: October 5, 2011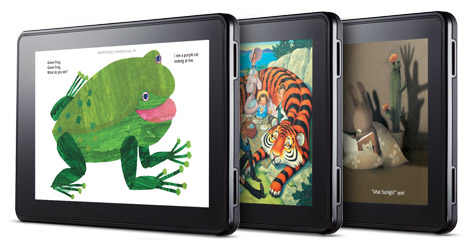 See Little Ones Review of the new Kindle Fire for the most recent information about children's color ebooks for young readers. Soon to be released on 11/15/11, the Kindle Fire is a whole new option for even the littlest readers!
Kindle FIre: Recommended Full Color eBooks for Children (Ages 1-3)
Kindle FIre: Recommended eBooks for Children (Ages 4-8)
Kindle Fire: Recommended eBooks for Older Children/Teens (Ages 9-12)
Published: October 10, 2010
Ok, so we all know that there a lot of good books available on the Kindle for adults…but what about for kids? What types of eBooks are available for children and at what age level? These are all questions that accompany the latest technology. After doing some research, I was pleasantly surprised to see just how many well-known, quality series and books are available for children of all ages.
For the Infant-3 age group, keep in mind that the original Kindle does not display color, but rather displays black & white or "grayscale" images. For younger children with shorter attention spans, this type of display may not be stimulating enough to grab and hold their attention. There are some Kindle titles available for this age group, but they are somewhat limited, and are not the typical toddler bestsellers you might be looking for. However, with the introduction of color technology, the choices for this age group will definitely expand rapidly.
If you concerned about handing over a Kindle to a small child to hold, consider this option. The eBook alternative for ages 3-7 is The V.Reader Animated E-Book System by V-Tech . It definitely works better for this younger age group, is less expensive and is an awesome children's eReader. (See more specifics in the Little Ones review of this highly recommended, educational product.)
For the 4-8 age group, I especially recommend several great KIndle series such as: the Magic Tree House series; Beverly Cleary's Ramona series; Cam Jansen Mysteries; A-Z Mysteries; the Flat Stanley series, Curious George, Berenstain Bears and more. They are all great choices for developing readers with interesting plots and amusing characters. I was pleased that Kindle offered so many excellent literature choices for this age group. The Kindle brings excitement and a brand new twist on reading for these emerging readers.
For the 9-12 age group, I highly recommend Rick Riordan's series including his latest, Percy Jackson. Rick Riordan skillfully combines adventure, friendship and mythology into his incredible stories. Definitely high interest, action packed reading! Other good Kindle choices are the Artemis Fowl series; the classic Narnia series and Ranger's Apprentice. There are also many pop culture choices available. The Kindle is a good match for this older, tech savy & sophisticated group of readers.
Finally, there are numerous titles, including many classics, at each age level that are included free with your Kindle. I was amazed to discover that this fast developing eBook technology actually had so many kid-friendly choices. The wave of the future is here and it is something to see for yourself.
See Children's eBooks for the Kindle for a complete selection of eBooks grouped according to age levels. Also, check out Amazon's top 100 list of bestselling children's eBooks at Children's eBooks for the Kindle.

For a superb selection of children's books for kids of all ages (Kindle or not!) see Great/Award Winning Children's Books at www.littleones.com
Written by Lisa Cartolano, certified elementary school teacher and creator of the Little Ones website.


Visit www.littleones.com for our selection of Great/Award Winning Children's Books. Little Ones Recommended Toys & Gifts, Birthday Theme Parties and Baby Basics, along with teacher tips, parenting articles, family fun and much more!
If you haven't done so already, Subscribe Now to receive our weekly Little Ones articles via E-mail.